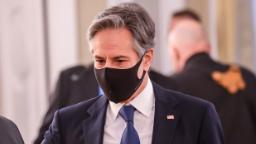 The tete-a-tete with Lavrov will follow the top US diplomat's travel this week to Ukraine and Germany to meet with Ukrainian President Volodymyr Zelensky and his foreign counterparts.
This will be the first high-level meeting between Russia and the United States since the
diplomatic engagements last week
, which failed to deliver breakthroughs on the situation at Ukraine's border where Russia has amassed tens of thousands of troops.
The two foreign ministers spoke by phone on Tuesday, and the senior US official said it was "in the context of that conversation" that they agreed to meet in person.
The fact that Blinken and Lavrov will meet on Friday "suggests that perhaps diplomacy is not dead," the official said.
The official said the two sides wanted to see if there are opportunities for "common ground."
During Tuesday's call, Blinken and Lavrov spoke about last week's diplomatic engagements and "stressed the importance of continuing a diplomatic path to de-escalate tensions surrounding the deeply troubling Russian military build-up in and near Ukraine," State Department spokesman Ned Price said Tuesday in a readout of the call.
In Kyiv, Blinken will meet with Zelensky and Foreign Minister Dmytro Kuleba "to reinforce the United States' commitment to Ukraine's sovereignty and territorial integrity," Price also announced Tuesday.
In Berlin, Blinken will "discuss recent diplomatic engagements with Russia and joint efforts to deter further Russian aggression against Ukraine, including Allies' and partners' readiness to impose massive consequences and severe economic costs on Russia."
Blinken will meet with German Foreign Minister Annalena Baerbock, followed by a meeting with the Transatlantic Quad, which also includes the UK and France, according to Price.
Following last week's diplomatic engagements, a large rift remained between Washington and Moscow over Russia's key demands, which the US and its NATO allies have deemed as non-starters.
Blinken is "150% committed to seeing if there is a diplomatic offramp here" and that is the impetus for this engagement, the senior State Department official said. It is still too early to tell if Russia is prepared to negotiate in good faith, the official added.
It remains unclear if the US will respond to Russia's proposal last week with a written response, which Russia has demanded. When asked about that the official only said that the US remains prepared to engage with Russia on "on security issues and meaningful dialogue."
Meanwhile, the US has been assuring Ukraine of its commitment to the country amid new warning signs and US intelligence that suggest Russia is preparing a Ukraine invasion.
This story has been updated.