HeroVerse's Journey
More than a month after its IDO, HeroVerse is currently well on its way to being a success story for our Development Team. On the IDO day, the native token of HeroVerse, $HER, successfully reached Top 1 on Dextool only after 17 minutes of debuting. On top of that, HeroVerse firmly commits to their published roadmap, which establishes solid trust with their users. Starting with the Hero Sale Ver1, 10,000 boxes were, at first, expected to sell in 7 days but successfully sold out in only 1 day, which shows the great interest from its players. Followed by the Hero Sale, HeroVerse continues launching its Marketplace creating an official trading platform for its users; and many more blockchain-related features such as Staking and Hero Farming Mechanism.
A few weeks ago, in the middle of October, HeroVerse released its Beta Test on multiple devices (mobile and PC). HeroVerse Beta Test attracted more than 10,000 downloads and has over 2,000 active players. Major users joining the Beta Test are giving thousands of positive feedback about its ready-to-play game with stunning graphics.

Posted by a user from HeroVerse's community
In addition, HeroVerse does not only provide an addictive gameplay concept but also an easy to earn mechanism. Normally, a game will last for about two to three minutes, which means in an hour, each player can continuously play at least 20 games and receive 20 rewards. There would be no other easy money than this.

Posted by a user from HeroVerse's community
Furthermore, on November 7, HeroVerse listed its in-game token, $HES, and received noticeable recognition including Top 1 Biggest Gainer on CoinMarketCap and Top 1 Trending on Dextool.
HeroVerse's Game Release
Recently, HeroVerse has just announced the release date of its official product at 7:00 AM UTC, November 11. After the surge in $HES token price, in game tokens, after listing, HeroVerse is considered such a promising play-and-earn project for its users. As a celebration for its game release, HeroVerse is offering early players with multiple in-game events, which attracts more newcomers to its project.
Game Concept
Campaign
The campaign is divided into chapters, each chapter is a location on the map consisting of many challenges and rewards hidden within. Players need to win at all milestones to complete a chapter and unlock the next ones.
Each chapter has diverse monsters, special bosses, and fascinating treasures for players to discover.
Campaign Mode
Daily Raid
After completing a chapter, bosses in that chapter will be unlocked. Every day players will have 1 chance to fight with a boss as they like. They will compete with other players to defeat the boss. The longer the players survive, the bigger the reward will be.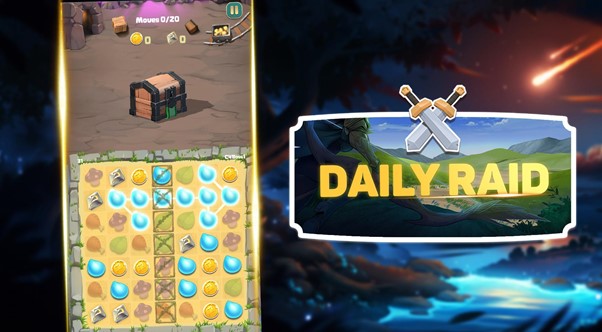 Daily Raid Mode
Apart from the Campaign and Daily Raid Modes, HeroVerse also provides users with Tower, PvP and Clan Modes. However, only Campaign and Daily Raid concepts are available now. The other three concepts will be launched next year according to the roadmap.
Game Economy
Tokenomics
Heroverse has two types of tokens: $HER and $HES. $HER are pre-minted tokens that the holders use to buy Heroes and Hero Box. Due to the limited feature of this token type, HeroVerse can control the pricing process of the pre-minted token during the project. $HES is the in-game currency that players can earn while playing or farming heroes and can spend on almost all game features.
Play And Earn
Play And Earn Model instead of Play To Earn Model, the game focuses more on the gameplay and increases the player's experiences. HeroVerse wants to bring the community the game battles which can give the players joy and financial success.
Closing Thoughts
Up to now, HeroVerse has achieved remarkable success during its early and mid development stages. The Development Team will launch its Official Product at 7:00 AM UTC November 11 with various potentials ahead. To celebrate the Official Game Release, HeroVerse will run a Welcome New Members in-game event for their very first players to join. Any players joining the game in the first week after launching will receive an extra amount of $HES, which is a great chance for users to win a big bag of $HES tokens. Needless to say, the game is on the way to prove to be a success story for its development team and a success project for its loyal users.