Minutes after Russia announced a "special military operation" in Ukraine, effectively declaring war on the Eastern European country, Vitalik Buterin, a Russian-Canadian cofounder of the Ethethereum B blockchain, criticized Russian President Vladimir Putin on Twitter.
Buterin Speaks Out
Buterin said on Wednesday evening that he was "very upset" by Putin's choice to start a war instead of finding a peaceful solution to Russia's issue with Ukraine.
Vitalik wrote in Russian on Twitter:
"Very upset by Putin's decision to abandon the possibility of a peaceful solution to the dispute with Ukraine and go to war instead. This is a crime against the Ukrainian and Russian people."
"I want to wish everyone security, although I know that there will be no security," the Russian-Canadian crypto co-founder wrote, concluding his statement with "Glory to Ukraine".
Reminder: Ethereum is neutral, but I am not.

— vitalik.eth (@VitalikButerin) February 24, 2022
On Wednesday evening, CNN reported a "constant stream of explosions" in multiple Ukrainian towns, including Kyiv, the country's capital, and Kharkiv, the country's second-largest city. "Subways are packed, streets are also, people [are gathering] with loved ones and [trying] to flee," Oleksiy Sorokin, a correspondent for the Ukrainian outlet Kyiv Independent, tweeted. The Ukrainian State Air Traffic Services Enterprise declared on its website that Ukraine has also closed its airspace to civilian planes, citing the considerable threats to aviation safety in the current situation.
Buterin has spoken out on a number of occasions about philosophy, geopolitics, and the use of blockchain technology for "public goods" such as scientific research, news dissemination, and the reduction of various hazards to humanity.
Related Reading | Ruby on Rails Creator Backtracks As He Expresses Support For Crypto
Crypto Market Tumbles
Following Putin's announcement, cryptocurrency prices plummeted. Bitcoin prices declined 3.8% to $35,031.86 on Thursday morning, while Ethereum prices plummeted 5.2 percent to $2,388.98. Over the past week, Bitcoin has dropped roughly 20%, while Ethereum has dropped 22%, undermining the premise that cryptocurrency values can withstand geopolitical crises that wreak havoc on traditional financial markets.
Stablecoins such as USDT, BUSD, and USDC, on the other hand, saw their values rise somewhat on the day. Stablecoin trading volumes have been soaring as demand for safe haven assets has risen.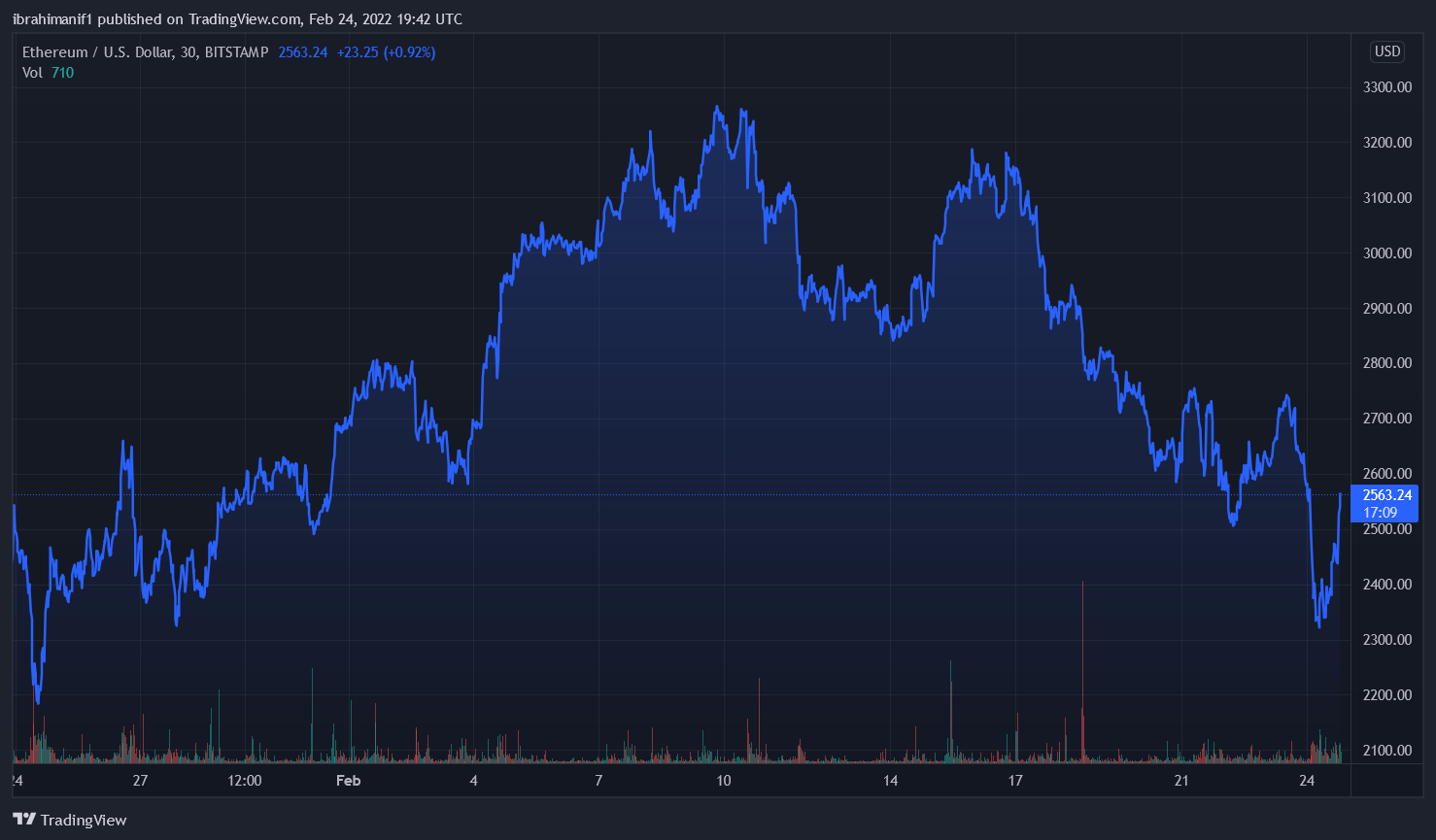 ETH/USD trades at $2.5k. Source: TradingView
Apart from the cryptocurrency sector, the stock market has also plummeted, while oil prices have risen. The Russian stock market has plummeted to its lowest point since 2016. The price of oil has climbed from $60 to above $100 per barrel.
Geopolitical concerns are likely to persist for some time, putting downward pressure on these higher-correlation digital coins. As a result, investors should include heightened volatility in their calculations before considering Ethereum at this time.
Related Reading | Crypto Winter or Not, Here's Why Index Trading Can Help Spread the Risk
Featured image from Unsplash, chart from TradingView.com