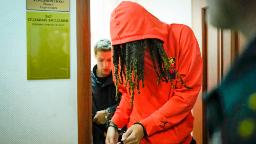 Griner, who the US government has
said is being wrongfully detained
, now can be held in pretrial detention at least until June 18, a court in Khimki outside Moscow ruled Friday, TASS reported, citing the court's press service.
Leaving a hearing Friday in the Khimki court, she was handcuffed, wearing an orange hooded pullover with her head down, an Associated Press photo shows.
An official from the US Embassy was able to talk with Griner on the sidelines of her hearing Friday morning, State Department spokesperson Ned Price said.
"The officer was able to confirm that Brittney Griner is doing as well as can be expected under what can only be described as exceedingly difficult circumstances," Price said on a briefing call Friday.
US classified her as wrongfully detained
Friday's extension of Griner's pretrial detention "was not unexpected," a WNBA spokesperson said, "and the WNBA continues to work with the US government to get BG home safely and as soon as possible."
"Regardless of Russian legal proceedings, Brittney Griner has been officially designated as Wrongfully Detained by the U.S. Government and has been held now for 85 days," Griner's agent Lindsay Colas said Friday. "As such — and out of respect for the sanctity of sport and to support the confidence of all athletes traveling abroad to compete — we expect the White House to use all options to bring her home immediately and safely."
Griner was the No. 1 pick in the 2013 WNBA draft and is one of the league's all-time best players.
Last season, Griner finished second in Most Valuable Player Award voting. The 6-foot-9 center led the Mercury to the WNBA Finals, where Phoenix lost to the Chicago Sky.
CNN's Jennifer Hansler, Ellie Kaufman, Homero DeLaFuente, Wayne Sterling, Aya Elamroussi and Steve Almasy contributed to this report.